The 15th Strathcona Cub Scout Pack is an active group of 16 youth, aged 8-11, 4 leaders, and 2 "Kims" following the Scouts Canada Cub Scouts program. Our pack is located in Burlington, Ontario, Canada.
Our Pack is always doing something! In past years we had a winter camp at Lowville, went to the Toronto Zoo, and had our annual Kub Kar Night. We've participated in a Soap Box derby, went to the Area Cuboree and typically end our year with a extended trip to a location such as Algonquin Provincial Park. Our 3rd Year Cub Scouts attended the Dorchester Camporee with the Scouts!
Akela and the Leaders are planning an action-packed 2011/2012 Cubbing year! We invite you to come on out and join our Pack, and get in on the fun!
Come and explore our Pack's web site and let us know what you think! To get back to this page at any time press on the paw icon. If you are looking for something specific, you can search our site.
You can contact our group at Akela@15thstrathcona.scouter.ca. You are one of
visitors to our Pack since February 23, 2011.
other 15th Strathcona Scouting pages:
---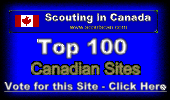 ---
Contact the webmaster at ScouterBill@scouter.ca
Select graphics courtesy of the Web Diner.
This page, and all contents, Copyright © 2002-2013 Scouts Canada, 15th Strathcona Scouting Group
Microsoft and FrontPage are registered trademarks of Microsoft.

Page last revised Tuesday March 05, 2013.